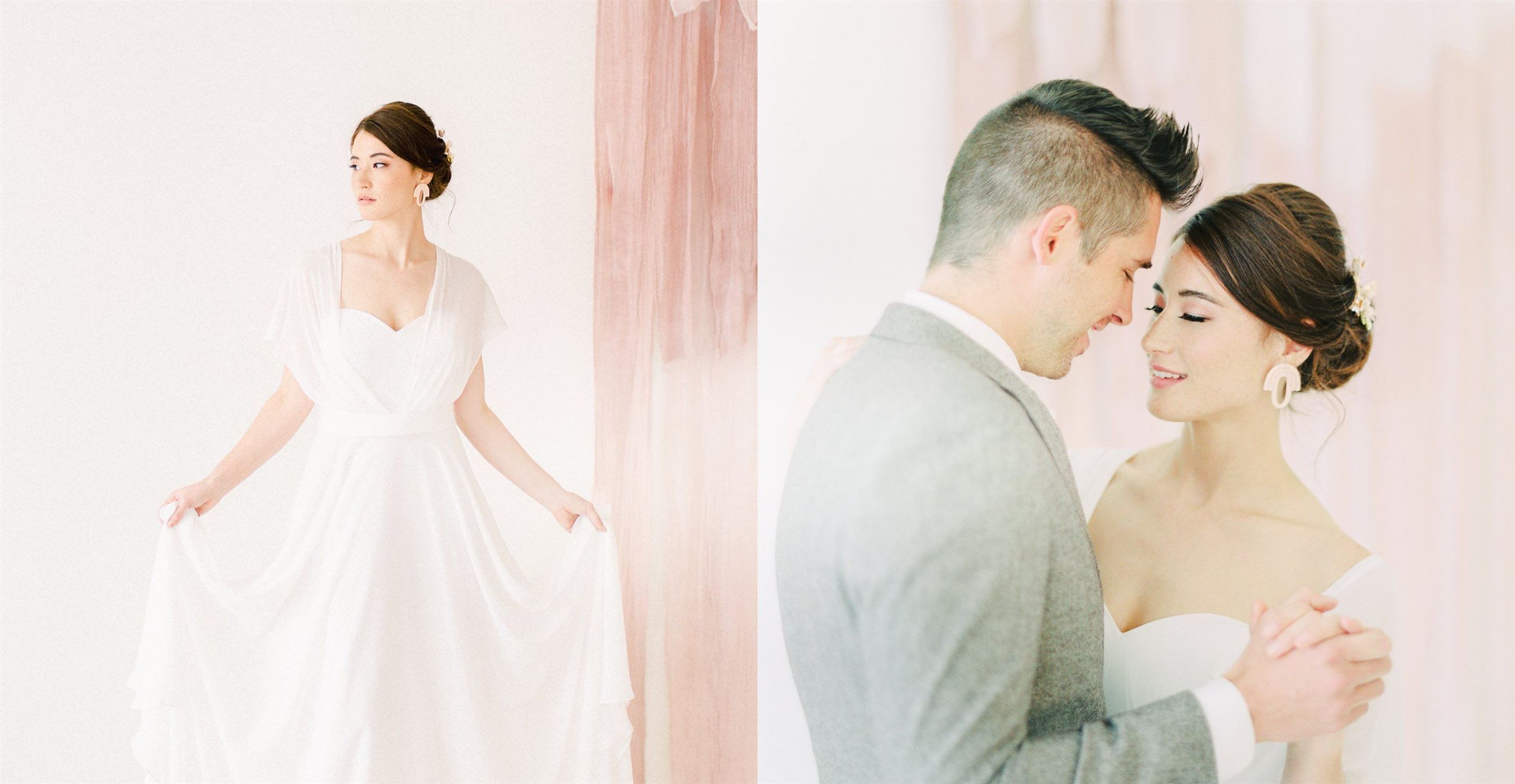 My daughter and I loved this place! They have amazing people that can help you with anything you need. The entire experience was wonderful. The alterations to her dress were perfect! We highly recommend the Bride Room.
-Meisha
I had the best experience working with these lovely ladies! They were so kind and literally created exactly what I dreamt up in my head for my wedding dress. Most talented seamstress I've ever known... I would send everyone I know there!
-Chloe
Laurel and Ashton were so sweet and helpful! I came in knowing what kind of dress I wanted but was way too far out of my budget and they worked with me and are creating an almost identical dress to the one I loved but are doing it within my budget and making it even better by making the sleeves how I want. By far the best experience and best quality for the price! I am so excited and happy for my dress!!
-Kristi
If I recommend supporting any business, it's this one! The owner was the sweetest lady and she altered a dress I wanted from a size 14 to a size 0. She is just amazingly talented and caring. We were so lucky to find her and not have to pay thousands for a wedding dress. She deserves all the business in the world because not only is she soooo talented, she also cares and wants to help!
-Mckenzie
Laurel was so amazing to work with! The anxiety of wedding planning is relieved knowing my dress is my perfect dream dress. She does the alterations too so you know you are in good hands! So glad I went here.
-Amaris
I absolutely loved having my wedding dress custom made at the utah bride room. Not only was the owner extremely helpful, she also was willing to work around my schedule. She was willing to fix and change everything I asked for and long before the date I asked for it to be ready.
My fiance also got his tux from the bride room. We got to choose every detail of how we wanted it and it turned out so perfect. I literally could not be happier! I am so in love with my dress and my fiance's suit. Everything fits us so well and our pictures turned out amazing!

Another thing I loved about doing business with Laurel, the owner, was that she was so willing to spend as much time as I needed with me and making sure that everything I wanted was perfect. I felt valued as a customer and I could tell that her goal was to help make my wedding perfect!
-Legacy
Had a great experience! Laurel and Jessica were incredibly helpful and kind. Very reasonable prices too.
-Payton
She made my better-than-my-dreams wedding dress. And I'm very particular. I can't recommend the Bride Room enough! Laurel (the owner) and all staff members were incredible.

Laurel is so kind and willing to work with anything you need. She is incredibly talented and I would trust her with any of my important dress needs forever and am definitely referring all of my friends to her!
-Zoe
My fiancé found her dress here and sent me to get a custom suit made. As soon as I walked in, I was welcomed by Laurel, the owner. I was able to completely customize the suit and she took careful measurements to make sure it would be fitted perfectly. When it arrived, Laurel had me try it on to make sure it fit properly. She finished some tailoring on the pants within the next few days. I would highly recommend the Bride Room to anyone needing a custom suit or any formal wear for that matter.
-Philip
The bride room was an amazing experience, the staff was amazing! They had my dress done with only 2 fittings. They didnt stop looking for a dress until I found one I loved! I am very happy with how they treated me and my whole party. We even got my fiance a suit had it fitted to him in one day and it fit perfectly he looked so good on our wedding day! Hey loved it as well. I definitely recommend the bride room for all your bridal dress needs!
-Madison
Utah bride room gave me the dress of my dreams! Laurel was able to take a shapeless, strapless dress that was about 3 sizes too big and turn it into a dress that was shaped to my body with beautiful flutter sleeves. She was so accommodating and knows her stuff. I know my dress is one of a kind and I got soo many compliments on it on my wedding day. Utah bride room made me so happy!
-Quinn
I had my wedding gown altered by the owner of the Bride Room. It turned out even better than I could have imagined! Thank you for sharing your talent and creative vision, and for helping me have the wedding gown of my dreams! I highly recommend this place.
-Karyn
I loved my experience at the Bridal Room. Laurel and her staff were very friendly and accommodating. She can alter any dress. Highly recommend.
-Trish
My wedding dress was made by the owner of The Utah Bride Room. It was made from a picture in a magazine and was not only beautiful, it was exactly what I dreamed it would be, with some custom touches that made it slightly alterable for different events I had planned. I couldn't have been happier with my dress.
Since my wedding, I have bought my daughters prom dress from them and had some custom alteration needs that were phenomenally done. I have sent several friends there for custom dresses. I highly recommend the Utah Bride Room
-Ann Janette